Tel: 01280 850 575
Fax: 01280 850 570
Email: info@a1locums.com
Welcome to A1 Locums
Locum Vets, Veterinary Nurses and Receptionists Recruitment
A1 Locums Ltd have a wealth of experience sourcing both locum and permanent staff solely within the veterinary industry.
We pride ourselves on offering a fast, efficient and above all, friendly service to both clients and locums alike.
With over 20 years of recruitment experience, our recruitment consultants are well positioned to place the right people into the most suitable positions.
Meet the A1 Locums Team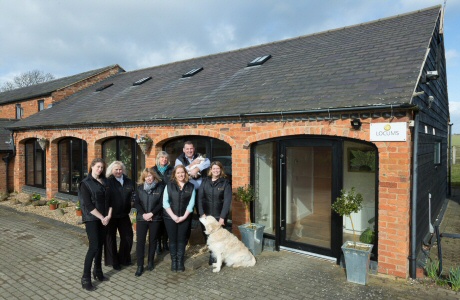 The team at A1 Locums are passionate about creating relationships with their colleagues, veterinary professionals and veterinary practices. We look to explore all areas for our candidates and strive to get best practice for everyone. We aim to offer unbeatable customer service and the only thing we take seriously is our work. We care, we really do.
From left to right - Keira, Anne, Trish, Steph and Clare, the boss, - (behind) Anna, Niel and our two receptionists, TC the cat and Harvey the Dog.
For nurses, please call 01280 851322 and speak to Anne or Keira or email nurses@a1locums.com.
For vets, please call 01280 851328 and speak to Clare or Stephanie or email vets@a1locums.com.
For our international department please call 01280 850575 and speak to Niel or email n.keays@a1locums.com
For sales and marketing please call 01280 850575 and speak to Anna
For accounts please call 01280 850575 and speak to Trish.
Louise Critchley - A1 Locums Graduate of the Year 2015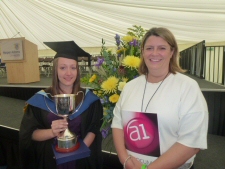 Congratulations to Louise Critchley on becoming the A1 Locums Graduate of 2015. Louise you worked so hard for this award and we are so proud of you. It was a pleasure to spend time with you and your family and see you receive this prestigious award.
Louise is currently working as an RVN at MM Leggett, a mixed practice in Leicestershire where she undertook her placement while studying at Harper Adams University.
Louise whilst dealing with the small animals in the hospital, is also head nurse of the large animal side of the practice Her dissertation was on 'The effect of dietary fibre on anal sac disease in dogs' as it is an area which she felt is somewhat misunderstood and under-researched for such a common disorder (though this is not a very glamorous topic to talk about!).
Register
Register with A1 Locums
to advertise your vacancies
and solve your staffing problems!
» sign up...
Testimonials
Hi Anne,
I am emailing to let you know that I have left the UK and am now living in Vietnam!!! Crazy I know, but sometimes you just gotta follow your heart :). I don't know when, or if I'll come back to the UK. But if I do, I will let you know immediately.
Thank you so much for all you have done for me all the past years, you have found me some amazing jobs and really looked out for me :)


Thanks a million. Tracey.

Hi Clare,
I canīt thank you enough for the help you have been giving us!.
Thanks a lot,
I will keep in touch!


Regards, Joao

Hello,
Thank you very much for your help finding me and my wife work prior to traveling, especially at such short notice. I think we will be back for a brief while but if we are i will get back to you.


Best wishes, Adam

Seriously, you have been very kind and professional, I really want to say you THANKS again! I've probably been a bit annoying, so thank you for your patience! At least you have noticed that I'm really keen and focus and I really want to work.


Giulia

Dear Stephanie,
I wanted to thank you for helping me throughout the process of getting the locum veterinary job in Swansea. I am starting at the end of the month but visited the practice this week and everybody was absolutely lovely. Again, thank you for being such a supportive professional.


Maria

I also wanted to thank you very much for offering me the position at Southampton. Things are going well for me and I really enjoy working there.


Fatima

I am writing to confirm my successful completion of your placement for me. I really enjoyed working there and I believe that the practice was pleased with my work. Thank you very much for helping me to find this very pleasant locum position.


Joseph

Dear Stephanie,
Thank you for your immediate response. You are always very helpful.


Anne

Can I please just say thank you for your help and what a friendly service you provide.


Olivia

OMG! You are amazing! Thank you so much Clare. Once again, the biggest heartfelt thanks - thank you.


Tracy x

Dear Clare, Thanks a lot for being such a friendly locum agency to work with.


Best wishes, Simon

Hello Stephanie, Just wanted to thank you again for sorting this out for me!


Best wishes, Fiona

Hi Anne, I hope this email finds you well, I'm emailing you to inform you I have finished my placement at New Era Vet Hospital on Jersey, it was an enjoyable placement - the team is great and the workload is incredibly varied. Thank you so much for encouraging me to take the placement.


Many Thanks, Laura.

With 53 clinics and 2 hospitals covering the UK, Vets now provide out of hours cover and referral services to more small animal practices than anyone else in Britain. We are pleased to work in partnership with Vets now and have lots of availability for odd day shifts and longer term contracts. If interested, please contact us for more information.
Jobs that are a head above the rest
Copyright © 2009-2016 A1 Locums Ltd. • all rights reserved