Meet Guido Bertoldi, Italian born, who arrived from Argentina to start a new life in London as a VCA.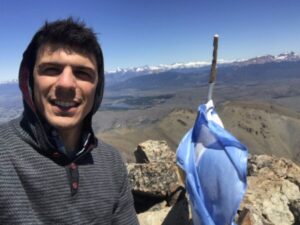 Thank you, Guido, for sharing your experiences.
What did you look forward to most, when moving to England?
My main goal is to become a Veterinary Neurosurgeon; however, I can't deny that I really look forward to meeting people, learning from them, meeting other cultures, music, foods, travel around Europe/Asia/Africa and different ways of seeing life. I am really excited about that, although COVID has other plans (for now).
Is there any advice you would give to other vets in your position before moving over that you wished you knew before?
It is a broad question, as it depends on every vet's particular situation and goals. In my case I thought I was going to have more time to study as I have to sit for the MRCVS exam… living in London, in particular, is expensive and we need to work 40hs/week in order to "survive". So, my advice would be, if you have to sit for the same exam, study as much as you can before coming and also choose a place to live that can allow you to save as much as you can. If you are already a Vet qualified to practice in the UK that's awesome, enjoy!
Was/is there any addition paperwork you needed when moving to London?
Yes, I had some troubles to acquire a proof of address as newly arrived i didn't have National Insurance Number, hence couldn´t have any services from my household on my name. So, I used a General Practitioner's (human doctor) letter to get proof of address and then was able to use that in banks and also to finish my MRCVS exam forms.
I had to do the Pre-settle status and also the National Insurance Number.
In regard to my university qualifications, I brought my degree translated and certified by the Haya postille and before sending all the needed documents to the RCVS I had to do an Affidavit in order to state that Proof of Good Standing Practice.
Have there been any restrictions you have faced while moving here?
Fortunately, not, I arrived and asked for the pre-settled status and it was granted to me without problems at all. Unfortunately, things are changing everyday with the Coronavirus restrictions.
What has been the best part of your placement since starting in London?
To be completely honest, I still find it very difficult to feel as if I were in London, as I cannot go to a bar, or the theatre, etc. The best part since I've arrived, has been the kind and generous people and co-workers I have met, who, have made so much easier, the homesickness "coin face" of this journey.
Have you got any advice to anyone looking to sit the RCVS exam upon arrival?
It is very difficult to give precise advice, because of the interpersonal differences, but what I have learnt so far:
Good, solid anatomy/physiology bases are essential in order not to lose time with those when going through so much material.
Endurance – work every day even if it is 1hour or 30minutes and study something new.
Listen to the RVC podcasts! they are awesome for tube/bike (not recommended he he!) time .
Try to find what kind of information they will probably ask of us in the exam, so far, I've been focusing on clinical scenarios, differential diagnosis and most common treatments.
Go and see General Practitioners work in the UK! It's is very different compared to they way we work in Argentina.
I think the most challenging part of the exam is the amount of information you have to cope with and memorise and retain for long periods before sitting the exam. I had to change the way I studied because of this, so a particular piece of advice (that I think is helping me) regarding study techniques: active recall (make yourself questions when studying and try to answer them instead of just reading the book) and spatial repetition (judge yourself on how good your answers are and go back again to those topics to help memory)
How did you find working with A1 Locums?
To be 100% honest, to arriving in London, finish my 14 days of isolation and have a job waiting there for me… was without doubt, one of the most important things that helped me to be safe and be able to focus on my studying. This unique scenario of being 11.000km away from London and being able to get a job interview… I would have found that impossible in other times. I am so thankful I met Sophie; I am sure that things would have been so much harder, if I hadn't met her.