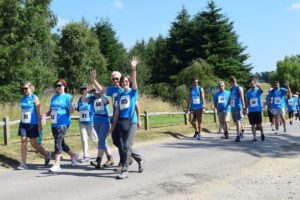 A1 Locums has announced its support for the charity, Parkinson's UK.
Instead of sending out Christmas cards this year, we will be donating the money we would have  spent, to two different charities; one of which is Parkinson's UK.
The reality of Parkinson's has affected the lives of several people close to us at A1 Locums, and the need to support the charity has touched our hearts.
Over 10 million people worldwide are affected by this condition.  In the UK alone,  145,000 people have been diagnosed with it – that's about 1 in 350 people.  It occurs mainly in the over 50s, but younger people can be prone it too. Men are more likely to get the disease than women are.
As quoted by the Parkinson's Charity, people with Parkinson's don't have enough of the chemical dopamine, because some of the nerve cells that make it have died.
We don't yet know exactly why people get Parkinson's, but researchers think it's a combination of genetic and environmental factors that cause the dopamine-producing nerve cells to die. Without dopamine, people can find that their movements are slower, and everyday tasks can take longer. Some of the typical symptoms that we often recognise with Parkinson's are tremors and stiffness in the joints.  Like many diseases now, these are not the only symptoms and there are many underlying symptoms which affect day to day life, sometimes making it difficult for people to recognise that someone has Parkinson's. It can also take time for the disease to develop.
Parkinson's UK is a charity that undertakes research into the condition; and a lot more research is still needed. For this reason we have nominated it as our A1 Locums charity,  in the hope that our donation can help towards their various research programmes.
We'll shortly announce the second charity to benefit this Christmas.