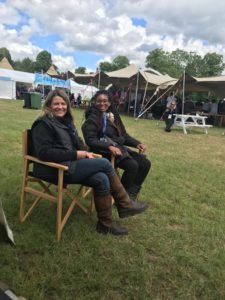 A1 Locums has just recently returned from Vet Festival at Loseley Park, near Guildford and it was great to be able to spend some time with our locum, vets, vet nurses and our clients.
Sophie, Marcus and Ryan were the advance team on Thursday evening to set up our stand in beautiful sunshine, put the finishing touches to it and head back to our hotel, to refresh, kick back and enjoy drinks and dinner together before a busy festival.
Hoping for sunshine was not on our radar.On Friday morning it was like the Somme – wet and windy and dampening the festival spirits. People bustled in and the CPD tents were full of eager vets and nurses, sharpening up on their education.
Charmaine Clarke, a locum nurse joined us for the day on our stand to talk to people about "How to be a successful locum", invaluable advice to the students and veterinary professionals who wanted to know what makes locuming so attractive and how it suits some, better than others. Charmaine was happy to share her experiences and to highlight best practices for working in this way. An expert in her field, Charmaine has worked for A1 Locums for over 11 years in many practices, and still stays loyal to Anne McManus and her nursing team. Watch the video interview.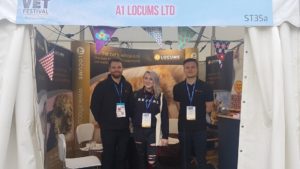 Apart from the extensive lecture programme with over 100 lectures to choose from, there was a wellness hub, devoted entirely to a series of wellness activities, including yoga and making mediation easy. A place to take some time out and relax. New to the festival this year, they had a Family Hub where veterinary professionals could listen to the CPD, whilst looking after young children.
It was the first visit to Vet Festival for Ryan and Marcus, who joined A1 Locums late last year. Good for them to meet some of the voices they hear on the phone each day.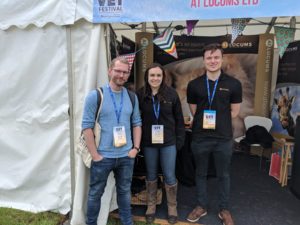 Friday night was party night, reminiscing about the 80s and dancing to Mad Hen. Certainly, all the dancing kept the team warm. On Saturday our teams changed; Anne and Clare took command of the stand and we had an abundance of veterinary nurses and vets joining us for chats. Good to catch up with up our regulars and meet some new faces.
Also, good to catch up with Fitzpatrick's Hospital Director, Brian Wright and Roxie O' Brien, Fitzpatrick's Clinical Nurse. Sarah Girling, Senior Surgeon for Fitzpatricks' Orthopaedics, also called by to see Clare to check how Wilbur, our office black Labrador has recovered from his operation she had performed and how the physio programme is helping in his recovery.
Always good to catch up on the latest industry news and listen to new trends. Most importantly see the people who work so hard for us and make the miracles happen.