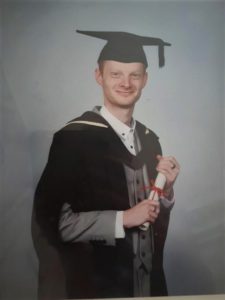 Anne McManus has been with A1 locums for twelve years. In that time, she has had the privilege of working with vet nurses across the country. It was with great sadness that she recently learned that Mike Esslemont-Palmer, one of her regular locums, had lost his battle with cancer.
We asked her to share some memories of him.
"Mike registered with A1 Locums in June 2016 just before he graduated,. Very keen to get work booked in as soon as he received his RCVS number, his first placement was for Village Vet at their very busy Hampstead Veterinary Hospital,working nights for seven months and returning at regular intervals over the last 3 years. He also worked regular nights for me for Vets Now, Fitzpatrick Referrals Orthopaedics and Neurology and at their Oncology and Soft Tissue Hospital along with other Referral and hospital placements in the south of England.
"Along the way Mike made numerous friends and since his passing I have had five calls from very emotional nurses who also work for me,  that have had the pleasure to work in placements with Mike. All of them have said what a dedicated, lovely,  funny person he was!
"On a more personal note about Mike… he worked solely for me since he joined A1 Locums and I first met him face to face at Vets Now Congress in 2017. He was accompanied by one of the permanent night nurses, Dave from Village Vet , and the most infectious thing about Mike was his cheeky smile; he and Dave had me in stitches; they were like a double act!  We chatted on a weekly basis and he became one of the nurses  who I considered a friend as well as locum. I knew that he hadn't been well for quite some time but his sheer determination to not let this get in his way is to be commended. I will always remember him with fondness for being a sweet, caring, dedicated, funny guy who loved his job caring for animals. He had a huge passion to travel the world and work with wild animals; his favourite being his love for elephants".
As a tribute to Mike's memory, A1 Locums has adopted Larro, an orphaned baby elephant that was rescued this year,
"I will miss our weekly chats and his caring funny demeanour so much!" R.I P Mike.