A1 Locums is delighted to announce the name of the second charity that will benefit from donations this Christmas after a decision was made to support a charity rather than send cards and gifts.
Cocker and English Springer Spaniel Rescue believe that every Spaniel should have the opportunity of a happy and fulfilled life in a loving home and that everyone who owns one, should have a positive experience and one that enhances their quality of life.
This was the aim of two retired couples, who having worked for a previous charity, set up Cocker and English Springer Spaniel Rescue in March 2010. Passionate about the breeds and owners of many dogs, they wanted to ensure that these loving breeds found the best possible homes. In August 2010, CAESSR gained Charity status and are now recognised by the Kennel Club and listed in the Kennel Club Rescue Directory.
The charity, with its network of volunteers, has been able to expand its operation from its initial starting point in the Midlands, to throughout the country. It has a team of rehoming folk, who go out and check that the new homes would be suitable for the dogs which are to be rehomed. They are also supported by a band of foster parents and homes, as well as the support of two kennels. Some dogs are better suited, because of age, illness or trauma, to go into a foster home, rather than kennels.
CAESSR is constantly raising money to cover the monthly veterinary and kennel bills; the latter can be over £1,000 per month, plus veterinary bills, grooming bills, transportation and supporting the foster dogs, who without the charities support, would not be rehomed.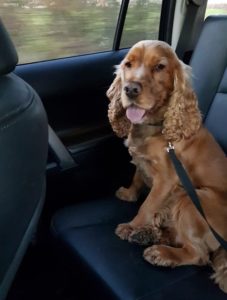 The veterinary bills are also a large cost of the care, with bills between £1,000 to £4,000 per month. For our elderly dogs and those with long-term illness, the charity supports them where necessary through their lifetime. A dog with a pacemaker or long- term heart surgery, can be draining on the charity, but with the help of donations, this amount is met.
A1 Locums has a special interest in this charity as one of the A1 team, Anna Robertson, volunteers as a rehomer, going out and chatting with couples and families, looking to take on one of the dogs from the charity. She said "I have worked with the charity from the beginning, having taken on a 5-year-old springer, who was adorable one minute, but had aggression tendencies. The group helped us and supported us with training and advice from a gun dog trainer and some good veterinary advice. We had Digger for 10 years and we finally said good-bye to him at the age of 15 in July.

"We are now blessed with a 4-year-old golden working cocker called Bertram, who is adorable, full of energy and as mad as a hatter. Sadly, we are already his third home, but this one will be his forever home now without a doubt. I love working with this charity and am always amazed by the circumstances of some of these dogs which come to us. I also love going to visit their new homes and listening passionately over a cup of tea to the new families who are looking to take on a new dog and listening to their stories of the ones who they have sadly lost and how they are now ready to take on a set of new paws."
John Powell for the charity, was delighted that A1 Locums were going to donate to the charity and assured them the money would be well spent!
A1 Locums is a specialist recruitment agency for the veterinary sector, placing vets and nurses in jobs throughout the UK.